Hello!
I have masses to tell you today, so I need to start with a little admin and pointing you in the right direction for things, otherwise this post will be as big as a full Sunday newspaper.
The link post for Five On Friday - that I am of course linking to - is
here
.
I will be updating the Five On Friday information page in the coming weeks with more details and will share with you when I have done that, please keep any eye out for the notification.
You will also need a link to the FAST blog - which stands for Family Attempting to Survive the Times. You can find that
here
.
Finally, you can find the post where I have the last of my Etsy shop and making things listed for sale
here
. Just a few things left now.
********************
Ok, so far so mysterious right! Not really, I am just trying to simplify things as well as change things. All will become clear, I am just trying to break it down so that it is clear!
First though, thank you SO MUCH for all of the great suggestions you made on my post last week. At some point I will try and collate all of the suggestions and add a list of them into the post so that anyone - all of us! - can easily refer back to it for ideas. You had some great ideas, some I had thought of and some new ones and I will be working through a few of them - and reporting back.
My first report is that I found a walking group nearby. I went and walked with them on Tuesday. They do two walks, a longer and a shorter, so I started with the shorter one. There were about 25 people on each walk and they both end at about the same time and meet up for coffee afterwards in a local pub.
The walk was really great, a nice pace - not too up hill and down dale - and plenty of people to talk to. I talked to one lady whose husband is a walk leader for over half of the walk and then she got chatting to someone else so I talked to some other people, one who was doing her second walk and one her fifth. So that was great.
I couldn't stay for coffee this week, but next week I will stay and chat with them some more.
So, so far so good hey! Thank you for giving me the confidence to go, I wasn't sure if walking groups were really a thing, but so many of you mentioned them I thought they had to be and you were right - of course!
Thank you all for the ideas and the confidence and everything!!!
********************
You know that life has been up and down, and despite promising myself that I will stop going on about it, of course you cannot really do that can you, it takes time. My mind has been on overdrive and I have been doing a lot of thinking which follows on from a lot of thinking that I have been doing in the last six months, and really before that going back to June or July last year.
I have come to the decision that I don't know what the decisions are, but I will take things as they come and if I want to change something I jolly well can. To that end I am no longer going to be selling "stuff". This isn't because I don't like the "stuff" I just think that I am better at designing patterns and things for others to use than I am at making things to sell, and the designing is what makes me happy, doing invoices and accounts doesn't and selling "stuff" means invoices, selling patterns is much easier. I hope..... still to be confirmed by the accountant.....
So I have linked up at the top a post where you can find - at very reduced prices - the things I still have for sale. They are lovely things, I just want to move on from them.
********************
Then I come to another thing.........
Five On Friday. I love it, I really really do, and will explain more in a moment. However, from 24th March 2017 Five On Friday is changing.
So, what is happening first of all. From 24th March Tricky and Carly who write the blog FAST which stands for Family Attempting to Survive the Times are going to be hosting Five On Friday. They will carry on having the weekly link up and you will still be able to share your five things each week. All that will change for you is that you will go to a different place to link up. Otherwise there is no difference.
Tricky has made a new blog badge, click this and you will go to his blog. You can copy this and add it to your own posts in the same way as you used my blog badge for Five On Friday. You can see that I have added it to my sidebar - over on the right.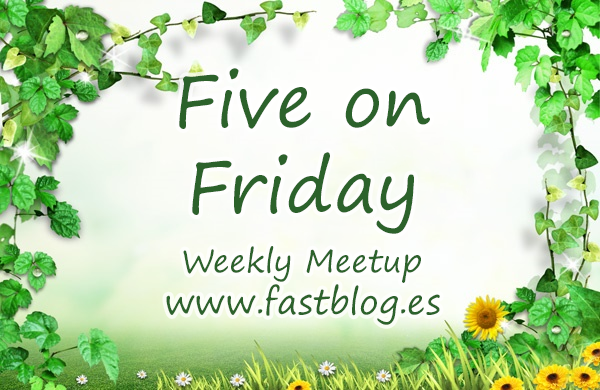 Instructions: Select all code above, copy it and paste it inside your blog post as HTML
Tricky and Carly's blog is about their life, previously in Southend on Sea in England living as a family and now their new life in Spain where they are trying to be as self sufficient as possible. Recently they have started keeping chickens in what is to be come a community garden. Right now Tricky is grappling with his huge seed collection and deciding what to plant in the community garden. I believe that they have many other plans for great things to come, so even if you don't participate in Five On Friday you should still be reading and following their blog - link at the top of this post.
I am sure that Tricky and Carly will bring great new life to Five On Friday, they are a young vibrant family with great things ahead of them, so do go and support them with Five On Friday because they will give a lot and I am sure you will get a lot out of it too!
I am no longer going to be hosting because I need to change what is happening in my life! I have been hosting Five On Friday, and writing my own Five posts, for well over 2 years now and it is time for a change and for me to do something different. Although I have a lot more time on my hands, I want to use that time in other ways - I need to do that for my own wellbeing - and I cannot do everything. Despite my best attempts to do an impression of wonderwoman or some other superhero. Some of you - very kindly - say to me sometimes that you don't know how I do it, well, neither do I and I need to reprioritise things.
I have been carrying on because I wanted to, because I didn't know how to change things, or have the confidence to, and because I was scared to change anything with everything else that was happening in my life that I couldn't do anything about. I guess I clung to what I had come to know. Now though I realise that I can change and so it is time for a change and a change I am making!
Five On Friday has been wonderful for me and for my blog. I am grateful to everyone who has ever linked a post, visited one of my posts, visited one of your posts, left anyone a comment, shared the word, been encouraging and just been all round fabulous! I sometimes feel as though I tell people - you included! - that I am grateful or thankful too much and perhaps they don't believe me when I say it. Let me tell you though, I mean it every time with the utmost sincerity. I cannot believe that despite all of the nastiness in the world there are so many great and kind and thoughtful and wonderful people and I am SO grateful and thankful for them - you! - all.
Thank you thank you thank you thank you!
I hope that I have managed to bring something good to your lives in this little endeavour. You have bought a lot to my lives. I hope that Tricky and Carly will bring good things to your life - I am sure they will which is why I asked them to take over hosting! - and that you will bring good things to their lives too.
The best thing that can happen to Five On Friday is for it to carry on in a new home and you can all be part of that and I hope you will. Please make it even bigger and better!
I will still be writing Five On Friday posts, just not every week, and I will still be writing my blog, just not every day, and I will still be here, so I hope that you will still hang out here, I would miss you otherwise. I will still be visiting you too!
I will remind you as we go along over the next few weeks of what is happening and will be sure to post on the 24th so that I can direct you all to the right place in case you have forgotten.
********************
So, of the five sections of this post - to make a tenuous five for Five On Friday - I leave you with five photos taken this week at Basildon Park. It is ages since I took you for a visit so I thought you might like to see these pictures.
********************
So that is it for this week folks! We will all come back together for the next few weeks and then from the 24th we will all be on the move. So get packing and get prepared - go and grab the new blog badge and change your links - and then we can all look forward to great new things in March and the rest of the year ahead!
Thank you for visiting, have a great weekend, love one another and remember, be just a little kinder than you need to be!
Amy